This weeks
Illustration Friday
topic, 'Slither', was a bit of an easy one for me, because I already had an image completed that would suit. Yay!
This one came about from a game that was suggested to me on a forum by my good friend,
Boogybunny
. The game involved dice and drawing silly monsters. I therefore loved it to smithereens.
The rules of this game can be found at the bottom of this post. If you do give it a shot, I would love to see the results via a link left in the comments :)
A few of the pieces generated from playing the game have actually ended up on sale at
Lee Lee and the Bee
, like
"Goddess in the Forest"
,
"Honey, I'm Home"
and
"On Patrol"
, but this one (actually my first attempt at utilising the game rules) has remained in my private collection.
So here is my entry for the topic 'Slither':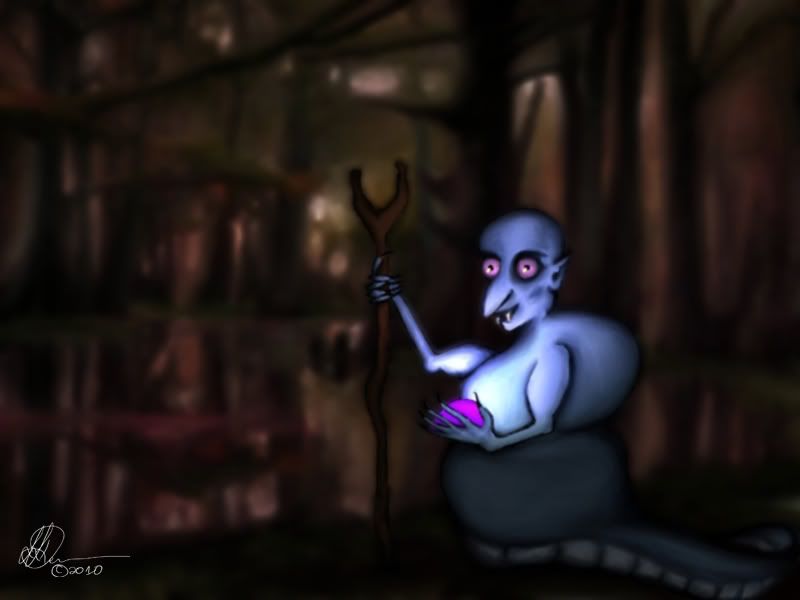 The Rules.
Apparently, this is taken from a post on the Something Awful forums, the author of which had in turn transcribed it from a role-playing book "
Rifts World Book 8: Japan
".
You will need a 100 sided dice (or 2 x 10 sided - one for the first digit and one for the second) or you can use this online set of roleplaying dice and clicking "roll" next to the purple d100 dice.

http://www.wizards.com/dnd/dice/dice.htm


General Body Shape
01-20 Perfectly human
21-50 Broad, muscular human.
51-60 Skeletal human.
61-65 Lumpy blob like a snail.
66-70 Looks like a buddha (fat and bald)
71-80 Toad; large, round, fat and flabby with no neck.
81-90 Bird; barrel chested, broad upper body, narrow lower abdomen, short thick neck.
91-95 Humanoid but giant,

8 feet

(2.4 m).
96-00 Fish; long body, complete with scales, fins and tail.

Head Shape
01-05 Wild Boar
06-15 Lion/cat
16-30 Human
31-40 Skeletal human with sunken features
41-45 Monkey
46-55 Large and round like a melon
56-60 Fish-like
61-65 Snake-like
66-70 Bird-like
71-80 Human but looks like a rotting skeleton
81-90 Neanderthal-like with a basic but larger, thicker human skull,
thick eyebrow ridges and square chin
91-95 Fox/canine-like
96-00 Rat-like

Nose
01-10 Normal human nose.
11-20 Bulbous nose three times larger than a normal human.
21-30 Pointed nose three times larger than a normal human.
31-50 Large, wide, flat nose like that of an ape, two times larger than a normal human.
51-60 Bird nose; can be shaped like a hawk or sparrow.
61-70 Animal snout, like that of a boar, hog or fox.
71-80 Tiny nose; can be any of the above types (choose or roll) but two times smaller than normal.
81-85 Snake nose; two small holes or slits above the mouth.
86-90 Rat nose.
91-00 No nose; not even an opening for one.

Eyes
01-10 Large human eyes with a wild or crazed look to them.
11-20 Huge almond-shaped eyes that glow red like a fire or sparkling gold, yellow, amber, or orange.
21-40 Large round eyes that are white, pink, pale blue, green or clear like a crystal ball.
41-50 Small eyes that are an unnatural red, yellow, or black.
51-60 Snake eyes that sparkle gold or silver.
61-70 Bird eyes the look like jade.
71-80 Normal human eyes.
81-90 Roll again for eye shape (or pick one), but has four of them.
91-00 One large round eye that is a pale blue or violet.

Mouth
01-10 Large toad-like mouth filled with large, flat teeth in a perfect
row; flabby lips.
11-20 Human mouth and crooked teeth.
21-30 Human mouth with fangs and sharp teeth.
31-40 Human mouth but twice as large as normal with large, pointed, crooked teeth.
41-50 Large monkey-like mouth filled with sharp teeth and large fangs.
51-60 Large toad mouth, no lips, just a long slit for a mouth filled with tiny, sharp teeth.
61-70 Canine-like mouth and short muzzle filled with canine teeth and fangs.
71-80 Large mouth with flabby, quivering lips, filled with large, flat,
crooked teeth.
81-90 Large mouth with flabby, quivering lips, with NO teeth.
91-00 Tiny slit for a mouth, half the size of a normal human; no lips,
tiny teeth and a thin snake's tongue.

Arms & Hands
01-20 Perfectly human. No claws.
21-30 A pair of large, oversized, muscular arms and a third,
smaller arm with two clawed fingers and a thumb.
31-45 Muscular human arms with clawed hands that have two fingers and a thumb.
46-56 Thin and gnarled arms, muscular but misshapen. The hands are skeletal with long clawed fingers.
57-67 Three-fingered claws (and a thumb) with muscular arms. Monkey- like in shape and length.
68-75 Squirrel or rat-like in shape and length, short and spindly with
small articulated hands and fingers.
76-85 Five arms of equal size and proportion.
86-95 Bird-like clawed hands and powerful arms.
96-00 Octopus-like tentacles instead of arms; twice as long as human arms.

Legs & Feet
01-15 Perfectly human. No claws.
16-25 Monkey-like in shape and length: short, stubby legs; walks in a waddling manner and lopes on all fours when running. Prehensile feet.
26-50 Classic oni: upper legs are powerfully built, lower legs a bit thin. Feet have two large, clawed toes.
51-60 Skeletal shaped legs with the classic two-toed, clawed feet.
61-70 Bird-like, spindly, stick legs and clawed bird feet.
71-80 Human feet with clawed toes.
81-90 Animal-like; hooves or like bear.
91-00 No feet or legs, snail-like trunk; slithers.

Other Features
01-07 Tail of a rat.
08-14 Skin is covered with tiny scales.
15-21 Pair of small horns.
22-28 Pair of large horns.
29-35 Large mane of hair, black, red, gold or green in color.
36-42 Bushy eyebrows and a scraggly beard.
43-49 Lumpy pink or white flesh.
50-56 Hairy body with tan or red skin.
57-64 No hair on the body; pale skin.
65-72 Boils or scabs cover the body.
73-80 Pot belly, but otherwise muscular.
81-87 Hunchback.
88-94 Tail of a lizard.
95-00 Covered in fur.

Skin Color
01-10 Brown or Tan
11-20 Reddish Brown
21-30 Light or Dark Red
31-40 Fiery Red
41-50 Light Green
51-60 Jade Green
61-70 Light Blue
71-80 Pale Grey
81-90 Stark White or Ivory
91-00 Mustard/Yellow Brown